Spring/Summer Book Voucher Information:
Spring/Summer session 2 book vouchers are now open. If you have a book voucher available orders can be placed at voucher.DUspirit.com. Eligible items include, school supplies, school uniforms, select electronics, bags and totes and software. Any remaining financial aid funds that were not used during this period will be placed on your panther one card and can be used as a credit card at www.DUspirit.com.
Graphic Tees now 2 for $15 – Online Only!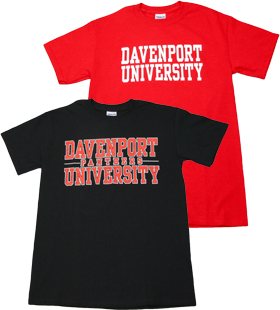 Summer is here! Now is a great time to stock up on your summer graphic tee shirts. Through June 24 select tee shirt styles are on sale 2 for $15. Enter promo code TEE15 at checkout to receive discount. If you would prefer to pick up your items in store that option is available at checkout. Not valid with any other offer. Promotion is for orders placed online only at www.DUspirit.com.
Celebrate Dads and Grads!
This summer get them what they really want. Great gifts are available for your dad or grad in-store or shop 24/7 at www.DUspirit.com. We have the newest technology, apparel and gift items at the lowest prices.
Father's Day is June 17.
Act Fast! – Select items available at up to 80% off.
For a limited time select Davenport University gifts and apparel are priced at up to 80% off. These offers are good in store and online while supplies last. Visithttp://www.duspirit.com/MerchList.aspx?ID=4134 to see the available items now!
Textbook Reservations and Rentals Now Available!
Textbook reservations are now being offered for incoming freshmen courses at the Lettinga campus only, adding more and more courses each semester. By reserving your textbooks now, you don't have to worry about waiting in lines during the start of fall semester. Simply reserve your textbooks today for fall 2012 classes athttp://dutextreservations.com/home.aspx. Used books are on a first come first served basis so reserve your books today to have the best chance at used books. Then pick up your textbooks at the Student Activities Center on either August 29 or September 4 between 12 p.m. and 6 p.m.
Textbook rentals are another option that has been introduced, giving you more choice of how you get your textbooks. Rentals are available for select in-seat courses at the Lettinga campus and can be rented at the Tyrus R. Wessell bookstore. By renting your books you won't get stuck at the end of the semester with books that you can't sell back. Not to mention, when you rent a textbook you will be saving up to 50% off the cost of buying a new book.
Get cash for your textbooks!
Did you miss on campus textbook buyback this semester?
You're in luck! Textbooks can still be sold back for cash online 24/7 at www.DUspirit.com. Find the "sell my books" button under the "textbooks" tab. Simply enter in the textbooks ISBN number to find out exactly how much cash you will get.  Shipping is FREE, just print the pre-paid shipping label and return the package to receive cash for your books.
Summer Hours at the Tyrus R. Wessell Bookstore:
Summer Bookstore Hours  - May 29 – July 27

Monday: 9:30 a.m. – 5:30 p.m.
Tuesday: 9:30 a.m. – 5:30 p.m.
Wednesday: 9:30 a.m. – 5:30 p.m.
Thursday: 9:30 a.m. – 5:30 p.m.
Friday: 9:30 a.m. – 1:30 p.m.
The bookstore will be closed for summer holidays on:

July 4
September 3
The bookstore will be closed for inventory:

June 26 at 3 p.m.
June 27
June 28
Call ahead as holiday hours may vary
Bookstore Phone: (616) 554-4767
Bookstore Email: Bookstore@davenport.edu
Spirit Store Phone (questions regarding online purchases): (866) 925-3884 x1269
Spirit Store Email (questions regarding online purchases): SpiritStore@davenport.edu
All items are available in-store or online www.DUspirit.com
Like us on Facebook at www.facebook.com/DUspiritstore
Visit the Team Shop to order customized DU clothing!